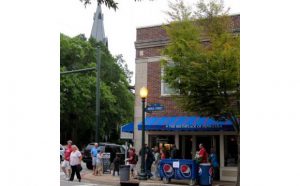 New Bern, NC – On Monday, May 27th, the Birthplace of Pepsi, the actual site where Pepsi-Cola was invented by Caleb Bradham in 1898, will host a celebration in recognition of Bradham's 152nd birthday.
From 10 a.m. until 3 p.m., visitors to the Birthplace of Pepsi can enjoy free birthday cake and a enjoy a Pepsi for only a nickel, its original price.
"For those in New Bern during the Memorial Day weekend, we hope you'll drop by to help us celebrate Caleb Bradham, the Inventor of Pepsi Cola." stated Sabrina Bengel, Managing Partner of the Birthplace of Pepsi.
The Birthplace of Pepsi is located at 256 Middle Street in New Bern, NC.  To learn more, please visit PepsiStore.com or follow us on Facebook.
Submitted by: Colleen Roberts, Public Information Officer, City of New Bern at the request of Alderman Sabrina Bengel