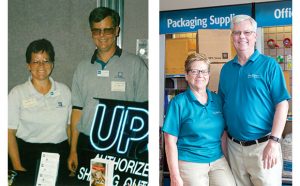 Pat Drake and Mack Paul are retiring as the owners of The UPS Store in New Bern after nearly 25 years in business.
Jim and Middleton Hinckley of New Bern will become the new owners of the store at the end of April. An Open House will be held at the store at 1822 S. Glenburnie Road, New Bern, from 10 a.m. to 2 p.m. Saturday, May 4, celebrating the new owners as well as Pat and Mack's retirement.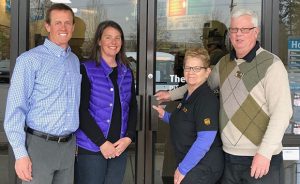 Jim and Middleton discovered The UPS Store franchise was available while looking for opportunities to operate their own small business.
"UPS Stores are franchised with local ownership," Jim Hinckley said. "It's a great small business model and I think local ownership is a valuable business attribute."
Jim has been spending April preparing for the transition, including two weeks at a training store in Florence, S.C., and two weeks at the corporate headquarters in San Diego, Calif.
The UPS Store locations offer domestic and international shipping, packing, printing, faxing, notary, mailbox services, postal services, drop-off shredding and other small-business services. The New Bern store has 1,200 square feet of floor space and employs three full-time and two part-time workers, in addition to the owners.
"Pat and Mack run a great business," he said. "We have a great staff in the store, so we are excited about that and look forward to getting to know them. The UPS Store offers a lot of services, so we'll be looking for opportunities to grow."
Jim's background is in car sales, while Middleton has a Ph.D. in Biochemistry from the University of Notre Dame. She worked as a postdoctoral fellow at Duke University before starting a family. The Hinckley's have been in New Bern for seven years. They have three children, Brent age 13, Middy age 12, and Marshall age 8.
"For us, The UPS Store is a great way to further our ties to New Bern and contribute to the community."  Middleton said. "It's a unique and wonderful town,"
Pat moved to New Bern in 1994 from New York, and opened a Mail Boxes Etc. franchise in September 1994 (Mail Boxes Etc. became The UPS Store starting in 2003). She met Mack a month later when he came into the store as a customer. He's a native New Bernian who was working as a journalist for The Pamlico News. They married in June 1997 and Mack started working at the store in September 1997.
"Over the years we've gone to customers' weddings and funerals, and celebrated births. Some of those babies have babies of their own now," Pat says. "I remember typing college applications on a manual typewriter for one of our customer's children. Today that college student is one of my doctors!"
Pat and Mack are known for excellent customer service as well as community service. They were recipients of the Community Fabric Award for Business Leadership from the Craven Community College Foundation in 2016. They are active in the Tryon Civitan Club, and their store has served as a collection point for food and diaper drives benefiting Religious Community Services and the Salvation Army; over 11,000 jars of peanut butter, 20,000 pounds of canned food and 70,000 diapers have had a temporary home at The UPS Store as they awaited delivery to the needy in our community. They have received recognition from many local organizations, including the Chamber of Commerce and the Twin Rivers YMCA as well as other non-profits. In addition, they have been chosen from over 5,000 The UPS Store franchises to receive The UPS Store Public Relations Award and the Customer Service Award.
With that in mind, they were not interested in selling their franchise to someone who would simply run the business. "We didn't want to sell to just anyone," said Mack. "We wanted someone who would continue our tradition of being active in the community—and they fit the bill."
"Following Pat and Mack is somewhat daunting," Middleton said. "They not only run a great business, but they are also involved in the community in so many positive ways. We bump into their work and contributions in the area everywhere we turn. We plan to continue our own involvement in the New Bern community as well as many of the contributions Pat and Mack are making through The UPS Store."
"Pat and Mack have earned their tremendous reputation in the community," Jim said. "Every single person I talk to comments on their tremendous customer service and philanthropy. Community involvement is near and dear to my heart, so I'm looking forward to the challenge of maintaining their example."
Pat and Mack will remain in the area and continue to make repairs to their home, which was damaged by Hurricane Florence.
"We're not going anywhere," Pat says. "New Bern is our home,"
Submitted by: Judy Avery, J. Avery Events and Marketing