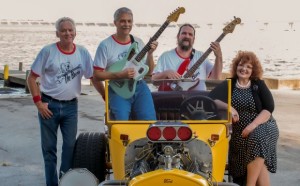 Saturday, April 20
THE BEARS perform for a buffet-and-dancing Spring Fling at Attitudes Pub & Grill in River Bend, Saturday April 20!
THE BEARS will play your favorite songs the way you remember them, in a high-energy show bursting with harmony, humor, nostalgia, and hot licks. You can sit back and enjoy the show, or trip the light fantastic on the dance floor!  You can jam along with the band as one of the "Air Bears"; or try your hand at kazoo!
Who are THE BEARS?
– "Mama Bear": Janet Montero sings and plays bass and keyboard.
– "Baby Bear". Steve Latimer sings and plays guitar.
– "Yogi Bear": Pat Engeman sings and plays the drums.
– "California Bear": Simon Spalding plays bass, fiddle, and guitar.
Attitudes Pub and Grill is at 32 Shoreline Drive in River Bend. A dinner buffet is from 6:00 to 7:00 pm, including ham, backed chicken, fish, potatoes, vegetables, and dessert. The music will start at 7:00, and will continue until 10:00. An admission fee of $20 covers both the food and the music.
For reservations or information, call Attitudes at 252-633-2006.
To learn more about THE BEARS, check us out on www.thebears.band. For band bookings, contact Pat Engeman at 678-205-7309.
Submitted by: Simon Spalding