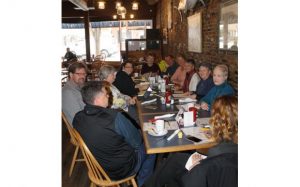 We strive to keep local news and information accessible to everyone. New Bern Now is continuously evolving as we are an Independent News Source; we produce New Bern Now and Beyond Radio and Podcast Show; we publish New Bern Now's Ledger magazine; and we promote local businesses and non-profits on social media and in our daily email – with an audience of over 50,000+ monthly.
New Bern Now is committed to providing a free place for people to find what they're looking for. As we enter our 10th year in business, we continue to grow and expand our services. This cost money. We've looked at several ways that online newspapers and news sources are generating income to pay for expenses. A lot of them have pop-up ads and paywalls.
Since we want to make New Bern Now accessible for everyone, we decided not to put up a pay wall. We're asking our readers who want to support our efforts to contribute financially so we can continue our efforts.
If you don't have the means to subscribe, we understand and appreciate you supporting our efforts by telling your family and friends.
Thank you in advance for your support!
Please let us know if you have any questions or comments by sending us an email or calling 252-259-6853.
Wendy Card