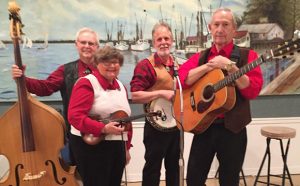 Harbor Sounds presents a free concert at Riverside United Methodist Church on Saturday afternoon, April 6.
The Sunday afternoon concert will be in the Fellowship Hall of  Riverside United Methodist Church, in New Bern. Harbor Sounds plays an eclectic mix of Bluegrass, Gospel, and Folk Music. While based in Pamlico County, NC, the band has performed at festivals, churches, nursing homes, and other venues throughout the region, and in Maryland and Tennessee. Harbor Sounds is noted for its vocal harmonies and lively enthusiasm. This spirited, dynamic group provides toe-tappin', knee-slappin', hand-clappin' fun.
Harbor Sounds includes:
Dixie Gatlin on fiddle.
Asa Gatlin on bass.
Dick Osmun on guitar.
Dottie Osmun on rhythm gadgets.
Paul Sykes on banjo.
Woody Fuller on harmonica.
Bill Foster on spoons.
Riverside United Methodist Church is at 405 Avenue "A" in New Bern. The doors will open around 2:30, and the music starts at 3:00.  There is no admission charge for the concert, but donations to Riverside United Methodist Church will be accepted.
This is sure to be a concert to remember!  For information, call 252-631-4117.
Submitted by: Simon Spalding