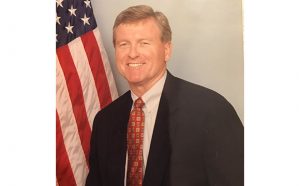 Lunch & Learn Examines New Bern's Role
We have long celebrated all the firsts that have occurred in New Bern. At the March 13 Lunch & Learn, the New Bern Historical Society will hear about how New Bern hosted the 1st and 2nd Provincial Congresses responding to King George III and his years of taxation on everything from sugar to tea, culminating in the Intolerable Acts of 1774. This made North Carolina the first colony to respond to the call to develop a list of grievances against the crown. Presenting this exciting chapter in history will be Dr. Robert Ainsley.
Dr. Ainsley has over 45 years' experience in education, training and instructional technology programs.  He retired from the Defense Acquisition University (DAU) as the Executive Director of the e-Learning and Technology Center after 20 years' service in that institution. He currently serves as an adjunct professor with the Tillman School of Business at the University of Mount Olive and as a consultant/trainer in the areas of instructional development and program management.
Dr. Ainsley enjoys genealogical research and is a member of the National Society of the Sons of the American Revolution and the North Carolina Society of the Sons of the American Revolution – New Bern Chapter.  His deep interest in history is reflected in his presentation.
Lunch & Learn starts at 11:30 a.m. at The Chelsea Restaurant, 335 Middle Street, New Bern. The cost is $17 for Historical Society members and $22 for non-members; lunch is included. Advance reservations must be made by calling the New Bern Historical Society at 252-638-8558, or can be ordered at NewBernHistorical.org/tickets. Lunch choices: Pork Tenderloin with Blueberry Ginger Glaze or Baked Salmon with Champagne Dill Sauce both with Parmesan Risotto, Seasoned Asparagus, and Vanilla Cake with Orange Icing.
The mission of the New Bern Historical Society is to celebrate and promote New Bern and its heritage through events and education.  Offices are located in the historic Attmore-Oliver House at 511 Broad Street in New Bern.  For more information, call 252-638-8558 or go NewBernHistorical.org or Facebook.com/NewBernHistoricalSociety.
Submitted by: Kathy Morrison, Public Relations, New Bern Historical Society