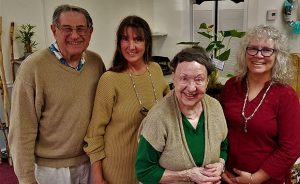 New Bern's Art Movement continues to expand as The Uptown Gallery opened on February 5, 2019 on South Glenburnie Road!
If you follow the Art Scene, you'll recognize the names and artwork of owners, Elaine and Pete Meyer, along with their daughter, Marilyn Ducy, and numerous Artists already featured in the spacious gallery.
I first met Elaine Meyer at the Greater Good Gallery located inside the Isaac Taylor House when they housed the Community Artist Will (now known as Community Artist Gallery and Studios). Elaine volunteered her time to welcome art enthusiasts and visitors to the gallery.
When I heard that Elaine, her family, and other artists were opening The Uptown Gallery, I had to check it out and visited on their first day!
During my visit, Elaine gave me the tour and pointed out all the amenities they offer for artists who would like to join and showcase their creativity.
She announced the "Call for Artists" to join the Uptown Gallery's Team! The building (previously McNeil Jewelry) has a kitchen, storage space, and a separate work area from the gallery.
The Uptown Gallery is similar to a cooperative as there's a place to feature each artists work!
If you're an artist, this is a terrific opportunity to become part of the New Bern Art Scene and showcase your work to a wide variety of admirers and attract people driving by who are curious to see what The Uptown Gallery offers!
The location is situation in a busy part of Town, and it will be an opportunity for you to participate during the monthly Artwalks that previously have been exclusive to Downtown galleries and studios. Artwalk has expanded to The Sanctuary Gallery on Trent Rd., Wine and Design (across the street on S. Glenburnie), and now, The Uptown Gallery!
During my visit, I enjoyed meeting Pete, Marilyn, and Gigi Koehler. They had a very successful opening day by selling four paintings along with other art!
Explore The Uptown Gallery and discover all kinds of art mediums including jewelry, paintings, walking sticks and woodworks, paper quilling, fabric arts, three dimensional art, hemp macramé, baskets, stained glass, painted rocks, along with other unique handmade wares!
I highly encourage everyone to check out the newest Art Gallery in New Bern that offers one of a kind handcrafted items at affordable prices!
If you're an artist, it may be a great fit for you to display your work!
Visit The Uptown Gallery at 1909 S. Glenburnie Rd., call 252-633-6465 or check out their Facbook page.
Please let us know if you have any comments or suggestions by sending an email or by calling 252-259-6853.
Wendy Card