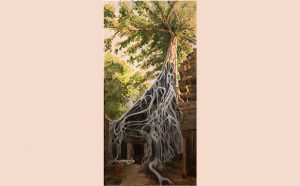 Local Painter to Exhibit Works Based on Travels
March 7 – March 31, 2018
Craven Arts Council & Gallery is pleased to present the works of Steve Kotrch in the Director's Gallery at Bank of the Arts for the month of March. Kotrch's watercolors and prints focus on his travels through Southeast Asia. Craven Arts Council will host an opening reception for the exhibition during the downtown New Bern Artwalk, March 8th, from 5 p.m. to 8 p.m.
Steve Kotrch says he is seldom happier than when he's making art. He describes this as an "affliction" that he calls "drawing on the brain" and writes about it in a blog by that name. Since moving to New Bern in March of 2012, Steve has been involved in making art for the New Bern Civic Theatre and Rivertown Players, as well as drawing, painting (acrylics and watercolors), and making block prints on his own. He and his wife Mary are passionate about travel, and Steve endeavors to capture memories of the places they've been and things they've witnessed in his art. This exhibit is of paintings and drawings from a trip they made in 2016, when they visited eight countries in Asia. "I try to create what I call portraits of places, which is to say pictures that capture more than I could with just a camera. Sometimes this involves showing more than can fit inside the viewfinder or capturing colors or lighting effects that the camera cannot see, but my ultimate goal is to put into these pictures how I'm affected by a particular sight or experience. Hopefully these feelings will come across to a viewer of the pictures, as well."
Admission to all Bank of the Arts galleries is free and open ot the public 10am-5pm, Tuesdays through Saturdays.
For more information please contact Jonathan Burger, Marketing and Gallery Director, Craven Arts Council & Gallery, Inc. at the Bank of the Arts, 317 Middle St., New Bern, 252-638-2577
Submitted by: Jonathan Burger