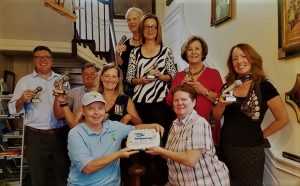 Help us cover the stories and topics that you care about…in person! Join us on March 5, 2019, 1 p.m. at The Kitchen on Trent for a "Community Conversation".
Become part of our efforts by helping us redefine Citizen Journalism in New Bern, NC, and help us report on community news, human interest stories, and information that you care about!
For the past 10 years, I've been publishing community information from locals. The purpose has always been to connect residents and visitors with the people, businesses, and non-profits; and promote the greater New Bern area.
In the first couple of years, I was running around town trying to cover all kinds of events and write articles about the people, places, and happenings. Then press releases started to come in and people became contributing writers. There were many times throughout the years when I was traveling back to Buffalo to help my elderly parents and I was on auto-pilot trying to publish articles and keep up with social media. Those trips are no longer urgent as my folks are in no longer with us.
Please know that I've always been committed to New Bern Now, but it's time to go full speed ahead and truly engage with our community!
We've regrouped and I'm very thankful that we have a great team! Laura Johnson, who has always been my Special Advisor and volunteer Distributor of the Ledger Magazine; Tracey Stones is our first Director of Sales/Marketing and The North Carolina Music Zone Writer; Randy Foster, owner of the NewBernPost.com, is our new Designer of The Ledger; and of course, New Bern and Beyond's Podsquad!
We're constantly trying to think of ways to shine the light on important issues and highlight our great town. That's the easy part. The hard part – finding out what you – our reader/listener wants!
In the past, we hosted BBQ events to get "the pulse of our community", but many of them were interrupted by trips to Buffalo. We're planning a special comeback BBQ event this Spring!
Until then, we'll be hosting events to find out what you care about and listen to your ideas. We hope that we can all learn from each other, enhance our relationship with you, and help all of us get to know each other by sharing this information.
This will also ultimately improve our services: NewBernNow.com, The Ledger Magazine, and New Bern and Beyond's Podcast.
Please help us promote our efforts by sharing this article on social media and adding #LearningInNewBernNow.
Since March 5 will be our first session, seats are limited to the first 15 people who RSVP. Please RSVP by clicking the "GOING" button. If you click the "Interested" button because you're not sure, it won't be counted as an RSVP as we need an accurate headcount.
Let me know if you have any questions by calling 252-259-6853..
There is no cost to attend and we will buy you a cup of coffee or a cup of your preferred beverage. Thank you in advance for thinking about helping us help our community!
We're looking forward to a fun and interesting conversation with you!
Wendy Card