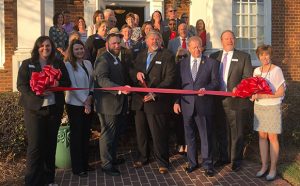 CresCom Bank was pleased to celebrate the formal reopening of CresCom Bank on Front Street in New Bern, North Carolina. The New Bern community, city officials, and New Bern Area Chamber of Commerce gathered to celebrate the reopening, along with a special announcement alongside New Bern's Swiss Bear, Inc.
Like many local businesses in the area, the bank closed after the flooding and devastation from Hurricane Florence and has been refurbished and is currently open for operation.
In addition to celebrating the branch reopening, CresCom Bank was pleased to announce that the bank has commissioned a local artist to create a "New Bern Strong" bear statue to commemorate the incredible New Bern "bear town" community who banded together through the devastation of Hurricane Florence.
The bank has partnered with Swiss Bear, Inc. and Craven Arts Council and Gallery to commission local artist, Sheri Leesburg to create the bear, which will be complete and placed in front of the bank on Front Street this spring.
"First and foremost, we are thankful to have such loyal customers in the New Bern community that have stuck by us during the refurbishment of our Front Street location," said David Morrow, CEO & President of CresCom Bank. "We are humbled to be able to honor the New Bern community with this statue to be a symbol of their perseverance."
"Craven Arts Council & Gallery is honored to work with CresCom Bank as they undertake the process to sponsor a New Bern Strong Bear designed by artist Sheri Leesburg," said Eileen Bress, Director of Craven Arts. "Sheri will share their vision which will embody the strength and resilience of our city, symbolic of our 300 plus years, as we continue to make great strides and progress from the devastating effects of Florence."
Submitted by: Jake Freedman, The Brandon Agency