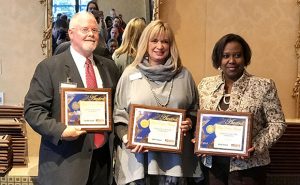 Craven County Schools was among 31 school districts in North Carolina to win Blue Ribbon Awards for effective school communications and public relations.
The awards were presented by the North Carolina School Public Relations Association (NCSPRA) during the Association's annual Blue Ribbon Awards ceremony and brunch on Friday, February 1 at the O. Henry Hotel in Greensboro.
Craven County Schools won five awards in the following categories:
– Image/Graphic Design – Words Come Alive – CCS New Vision – Silver Award
– Digital Media Engagement – Through the Eye of the Storm – Silver Award
– Publications – CCS Principals in the Know – Silver Award
– Electronic Media – The Value of Public Education – Gold Award
– Photography – Leading by Example – Gold Award
A Blue Ribbon Award is the highest honor a school district can receive from the North Carolina School Public Relations Association.  The award recognizes excellence in school communications and public relations in eight categories:  digital media engagement, electronic media, excellence in writing, image/graphic design, marketing, photography, publications (print and electronic), and special events and programs.
Members of the Georgia School Public Relations Association judged the entries.  There are three award levels:  gold, silver, and bronze.  The judges score entries based on content, quality, effectiveness, and overall impression.
"We would like to congratulate Craven County Schools for gaining statewide recognition as a 2018 Blue Ribbon Award winner," said NCSPRA president Todd Hagans, who serves as chief communications officer for Gaston County Schools.  "Our awards program is about recognizing the quality work of school public relations professionals in our state and bringing attention to their outstanding efforts to support and promote our public schools."
A ceremony highlight was the presentation of the Barry Gaskins Service Award to Jeff Nash, executive director of community relations for Chapel Hill-Carrboro City Schools, for his many years of outstanding work in school public relations.
NCSPRA is the premier organization for school communications and public relations professionals in North Carolina.  For more information, visit the NCSPRA website, www.ncspra.org.
Submitted by: Jennifer Wagner, Public Relations Director, Craven County Schools