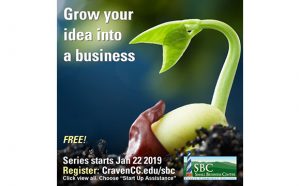 The Small Business Center at Craven CC will launch its Spring Entrepreneur Series starting Tuesday, January 22, 2019 from 6-9 p.m. with its How to Start a Business workshop.
The 10-workshop series has topics that will help you learn how to start a business.  Also, the series has workshops for recent start-ups and existing small businesses.
The workshops are offered at NO charge and open to the public.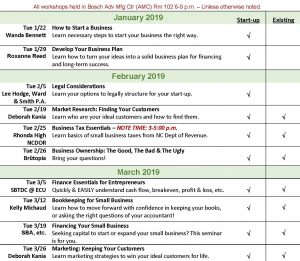 Register online at CravenCC.edu/sbc, Choose topic "Start-up Assistance"
Questions? Call 252-638-1166 or email mailto:sbc@cravencc.edu.
The mission of the Small Business Center Network, with centers located at each of North Carolina's 58 community colleges, is to increase viability and number of small businesses in North Carolina.
Deborah Kania Director, Small Business Center, Craven Community College