New Bern, NC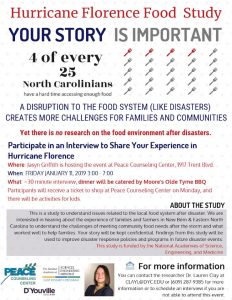 Peace Counseling Center has been very proactive with their efforts in helping our community move past the devastation of Hurricane Florence.  Right after the storm, owner, Jasyn Griffith opened the doors of her soon to be an established business, so to serve our community as a distribution center for food, cleaning and hygiene supplies, clothes, housewares, and more. Throughout the holidays and still today she works hard to help citizens meet their needs and move pat the devastation with her efforts.
In keeping pace with wanting to help the community in as many ways as possible, this Friday, January 11, 2019; Peace Counseling Center has set up an important survey for everyone in our area to take part in. This study is being led by Dr. Lauren Clay who is doing research on local food systems following a disaster. Those assisting Dr. Clay are interested in speaking to residents of New Bern and surrounding areas impacted by Florence. The survey is being held from 3-7 pm.
Everyone willing to take part in this important research is welcome to come to Peace Counseling Center, located at 1917 Trent Blvd., New Bern, NC 28562 on Friday during those hours.  They will provide survey participants and their families a hot meal at the time of arrival this Friday courtesy of Moore's Old Tyme BBQ and participants will also receive a thank you voucher to return to Peace Counseling Center on Monday to FREE Shop in the kitchen, which the surveyors will stock following their work at the center. There will be activities for the children and all are welcome to attend.
For more information about the event please call Peace Counseling Center at (252) 631-5337. For more information on the survey and it's importance, please contact Dr. Clay at (609)287–9385 or email any questions to CLAYL@DYC.EDU.
Tracey Stones