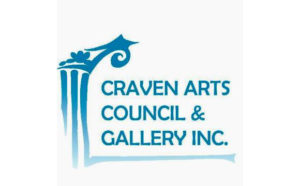 Bank of the Arts / Harrison Center  
Friday, January 11, 2019
5 – 8 p.m.
Both events occurring next door to each other are designed to jumpstart ticket sales and enthusiasm for the upcoming Empty Bowls event on Thursday, February 28, 2019 at Temple Church.
Pottery Throwdown
5pm Doors open
5:20 – 6:20 / 6 Potters attempt to throw 300 bowls in one hour
Rich Daniels, Scott Haines, Shelley Mathiot, Lanny Pelletier, Melanie Waters, Brent Wheelwright, local and regional potters who have also brought items to sell this evening
(6) $1000 Sponsors will assist: Carolina East Health Systems; Carolina Colours; International Paper; MOEN; Nutrien; Weyerhaeuser
David Whitley will be the MC for event
6:30 – 8:00 – Potters continue to work on their wheels, throwing the biggest, tallest, fattest bowls and interacting with the public
Human Interest
Despite his studio in Pollocksville being totally destroyed by Hurricane Florence, Rich Daniels has borrowed a wheel and is participating tonight. He not only is participating in the Throwdown but he has donated the bowls used as trophies for the SouperBowl and the bowl used as our Raffle item as an additional fund raiser for Empty Bowls. Rich and his family reside in New Bern.
Melanie Waters travels from Farmville, NC to participate and support Craven County's Empty Bowls.  Melanie utilizes a motorized wheelchair which doesn't hold her back.  She is the one who challenged the men to create 300 bowls in one hour.
Brent Wheelwright and Scott Haines both travel from Morehead City.  Brent sustained hurricane damage to his home. Lanny Pelletier lives in Cape Carteret and Shelley Mathiot lives in New Bern.
David Whitley is returning this year as our indefatigable MC.  He and his wife have been commuting from Kinston since their home in New Bern was severely damaged during Florence.
All of these people represent the very best of Eastern North Carolina. Though some of them have suffered significant personal losses, they are giving of their time, talent, and treasure to help the Empty Bowls project which supports RCS and the Craven Arts Council.
Souper Bowl II
5pm Doors open
5 – 8 p.m. Live Demonstrations
Twin Rivers Quilting Assoc. members sewing soup cozies
The ShopClass members turning wooden bowls
Accidental Artist staff paint bowls for the Empty Bowls event
5 – 8 p.m. Raffle Tickets on sale for Rich Daniels bowl (value $300), $5 ea. or 5/$20
Empty Bowls tickets on sale $25 in advance (includes 2 bowls soup, drink and choice of bowl or kitchen implement and live entertainment)
6:40 – 7:10 p.m.
Middle Schools participating: Epiphany School of Global Studies; Tucker Creek, Havelock; West Craven and HJ MacDonald
Judging :  The Hoveland's  (The Chelsea Restaurant); Chris Richardson (New Bern Golf and Country Club) and Denise Plourde (Greenbrier Country Club)
$1000 Diamond Sponsors assisting the students:  Jon and Karen Segal; Morgan's Tavern and Grill; E.A. Wood Law Firm; Neuse River Assoc. of Realtors and Latitude Church
David Whitley is the MC for the Souper Bowl contests
7:10 – 7:20 pm Trophy (Rich Daniel's handcrafted bowl) is awarded to the winning Middle School along with cash prizes for the school chefs
7:20 – 7:50 pm Judging of  High Schools : New Bern High; West Craven High; Havelock High; and Epiphany
7:50 – 8:00 pm Trophy (Rich Daniel's handcrafted bowl) is awarded to the winning High School along with cash prizes for the school chefs
Human Interest
Kevin Reese is lead for the culinary arts teachers in the Craven County School System. Through leadership, example and education, they are producing young adults who have been exposed to life skills (dependability, punctuality, pride in work performed, and community service) in addition to work force development training. Their participation in Empty Bowls is one of many projects they do outside the classroom throughout the year.
This year due to the widespread damage that many potters suffered during Hurricane Florence, Empty Bowls could not rely solely on bowls to give away at the event in February. The committee reached out to the Twin Rivers Quilter's Association and readily agreed to make quilted soup cozies for the bowls. It takes hours it takes to sew one and requires special expensive batting, which is microwave proof. Their previous location was flooded and all of their materials were destroyed.  Sewing on the River in the Magnolia Shopping Center has offered them space; the members purchased the batting and people donated fabric.
Mo Howland from Shop Class and Nancy Difede from Precision Molding heard about the Empty Bowls need and volunteered to make wooden kitchen implements to complement the pottery soup bowls since the supply might be insufficient.
Debra Schaefer from The Accidental Artist is going to demonstrate painting bowls for the Throwdown/SouperBowl. Through January they are offering the opportunity to purchase assorted discounted bowls to artfully decorate and donate to the Empty Bowls event.
George Oliver and his family band "Strung Together" had significant structural damage to their home during Hurricane Florence but will be returning soon, although repairs are still in progress.  He is part of the team that provides free talks for residents about options in handling flood issues.  He and the band have an exhaustive schedule performing at fund raising events for hurricane relief around Eastern North Carolina.
All of these people facing challenges of their own are gladly helping other people. This is why we live in Eastern North Carolina and what keeps us moving forward with smiles on our faces.
Written by: Linda MacDonald
Submitted by: Eileen Bress, Executive Director, Craven Arts Council & Gallery, Inc,