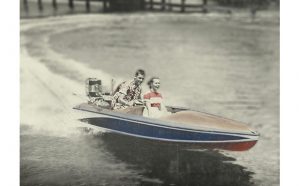 Tryon Palace is pleased to announce the reopening of the Tryon Palace Barbour Boats Exhibit in the North Carolina History Center's Duffy Exhibition Gallery. After the gallery sustained damage from Hurricane Florence, the exhibit was closed, but it will reopen to the public January 26, and be on display through March 17.
Follow in the wake of Barbour Boats – one of New Bern's most notable companies – from its creation in the 1930s to its closer in 1997, and beyond. Inside the gallery, visitors will learn about the founding, commercial and military past, and legacy of the Barbour Boats industry. The boat builder has a special connection with New Bern and Tryon Palace, as it used to operate on the Trent River, right where the North Carolina History Center now stands. The company was founded by Herbert Barbour in 1932, and exclusively turned out wooden boats until the approach of World War II, when Barbour began building naval craft including mine sweepers. Explore the impact the Barbour and Rivenbark families had on New Bern, North Carolina's nautical presence, and military defense at NCHC's exhibit.
"Barbour holds a special place in people's hearts," said Lindy Cummings, Research Historian, Tryon Palace. "I've had conversations with lifelong residents of New Bern who recall going down to Reggie's Outboard Service to purchase sporting goods, or summers spent on the family Barbour boat. The boats, especially, are touchstones for childhood memories. Since the North Carolina History Center sits on the site of the Barbour yard, staff have long felt that it was important to pay homage to Barbour's history. State budget crises and staff turnover kept that from happening, but it's always been on our radar. We're happy to finally have this exhibit become reality."
For more information about the exhibit, visit TryonPalace.org/events/barbour-boats-exhibit.
Submitted by: Regina A. Ochoa, Director of Public Affairs, Tryon Palace