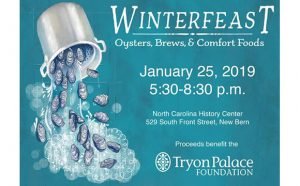 January 25, 2019
5:30 – 8:30 p.m.
Shuck your winter shell as Tryon Palace's WinterFeast oyster roast returns to the North Carolina History Center in 2019.
Dive into a table full of fresh, local, steamed oysters, sample classic winter favorites like chowders, shrimp and grits, and jambalaya prepared by your favorite local chefs, and wash it down with a selection of delicious brews while enjoying a night out with friends and neighbors.
This indoor/outdoor event includes a cash bar and will be held at the North Carolina History Center (529 South Front St., New Bern), where you can dance along to the DJ's music, play a game of cornhole, or simply enjoy the view.
Beginning Jan. 1, tickets will increase to $50.
All proceeds benefit the nonprofit Tryon Palace Foundation.
Tickets are non-refundable and cannot be exchanged or transferred.
Submitted by: Tryon Palace