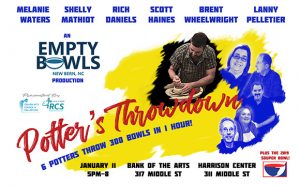 Annual Event educates and supports Empty Bowls
January 11, 2019 from 5 p.m. – 8 p.m.
Craven Arts Council and Religious Community Services are proud to present the Annual Potters' Throwdown on January 11th, from 5 p.m. to 8 p.m. at the Bank of the Arts and Harrison Center in downtown New Bern. This annual event features potters racing to complete as many bowls as possible in one hour, education demonstrations, and culinary competitions, all in support of Empty Bowls New Bern.
Officially kicking  off at 5:30 p.m, This year's six potters will attempt to throw three hundred bowls in one hour, giving them less than one minute per bowl. Each potter will be assisted by a team of volunteers and sponsors from local businesses. The six potters for 2019 are Rich Daniels, Scott Haines, Shelly Mathiot, Melanie Waters, Lanny Pelletier, and Brent Wheelwright. All bowls created will later be fired and glazed to be donated to the Empty Bowls New Bern event on Februrary 28th. After the speed competition potters will demonstrate various throwing techniques and challenges to educate the public on the process of creating pottery.
At 6:30 p.m. the Throwdown event will move two doors down to the Harrison Center, 311 Middle St. Middle school and high school students will offer soup samples in a culinary competition Souper Bowl, judged by local chefs and community leaders. Last year's winners Epiphany School of Global Studies will take on New Bern High School, Havelock High School, West Craven High School, H.J. MacDonald Middle School, West Craven Middle School, and Tucker Creek Middle School.
Other events during the Throwdown include a performance by local musicians Strung Together, demonstrations by local craftsmen contributing to Empty Bowls, and sales for Empty Bowls and raffles tickets. Admission to all Throwdown events is free and open to the public. The Potters' Throwdown is organized by the Empty Bowls New Bern committee, and all proceeds from event benefit Religious Community Services and Craven Arts Council.
For more information please contact Jonathan Burger, Marketing and Gallery Director, Craven Arts Council & Gallery, Inc. at the Bank of the Arts, 317 Middle St., New Bern, 252-638-2577
Submitted by: Jonathan Burger