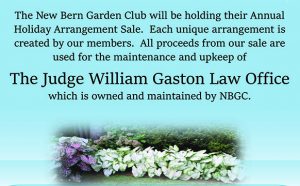 Saturday, December 15th, 9 a.m. – 2 p.m.
at the New Bern Farmers Market
The New Bern Garden Club will be holding their Annual Holiday Arrangement Sale. Each unique arrangement is created by our members. All proceeds from our sale are used for the maintenance and upkeep of The Judge William Gaston Law Office which is owned and maintained by NBGC.
Looking for that perfect gift? Along with our Arrangement Sale, we will be accepting pre-orders for our Annual Spring Caladium Sale. Each purchase of Caladiums during December will come with a free gift card. Caladiums will be available for pick up in May. Check out the New Bern Garden Club Facebook page for more details.
Submitted by: Joanne Celinski, New Bern Garden Club