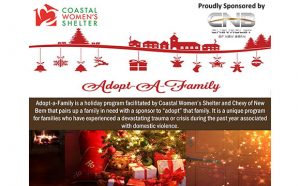 Adopt-a-Family is a holiday program facilitated by Coastal Women's Shelter and Chevy of New Bern that pairs up a family in need with a sponsor to "adopt" that family. It is a unique program for families who have experienced a devastating trauma or crisis during the past year associated with domestic violence. Now in its 10 plus years, we are pleased to announce our partner in this year's season of gratitude – Chevy of New Bern and you. Yes, you. Our beautiful community who is filled with many heroes and angels in disguise – we see them every day and they are you.
This is a chance for an angel in disguise to make a difference. It is our hope, along with Chevy's, that we provide a warm and memorable Christmas to as many families as possible who made the decision to choose safety and happiness over domestic abuse. No one expects to say the words " I am homeless." but more often than not, these families made the decision to begin a new home – one they can fill with love. By adopting a family, you are not just providing a small gift to someone. You are taking the strain off of a single parent who has endured tremendous trauma within the last year. Maybe the children that heard it too. You are allowing that mother or father a chance to receive something small for themselves- as they often choose to buy a package of hamburger meat for their family over that pair of socks they needed. You have the option to light up a child's heart. You are sparking the spirit of Christmas with your gift of gratitude. The holidays are a season of giving and thanks. Help us spread our seasons purpose. Help us show courage and compassion by adopting a special family.
Chevy is also pleased to announce they will be opening their doors to you all and the families we serve in our community. If you are interested in donating any single winter items or Christmas gifts, you may drop them off at Chevy until Dec 19. For convenience, and as always, you are still welcome to drop anything off at our main office as well. We are located at 1333 S Glenburnie Road.
Santa will arrive for our families on Dec 20. Quite literally. That's right, Santa is going to personally deliver your gift to the family of your choice.
To adopt a family, please contact Ashley Shivar or Candice Parker at 252-638-4509. You may also drop off any toy donations at Chevy of New Bern from Dec 1 – Dec 19.
All donations are tax deductible and sincerely appreciated.
Submitted by: Candice Parker, Fund Development Coordinator, Coastal Women's Shelter