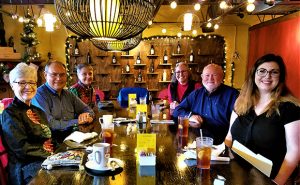 Scholarship in Memory of Hunter Spencer, Joe Corby, and Frank Albertini
The Experimental Aircraft Association (EAA) Chapter 1171 presented the Memorial Scholarship for $2,200 to Ingrid Watts in honor of the late Hunter Spencer, Joe Corby, and Frank Albertini on December 21, 2018.
Chapter President Karen Baskin, Virginia Spencer, and Ann Corby were excited to present the EAA Memorial Scholarship to Ingrid; as she's working hard to become a pilot, as it's been a lifelong dream. She's also been an active participant in their Young Eagles Flight Program.
Karen Baskin said, "We saw your resume and we're beyond impressed and honored to make this presentation to you".
Virginia Spencer said, "All three pilots (Hunter Spencer, Joe Corby and Frank Albertini) were active and very interested in education and in making sure that we pass along to the younger generation the opportunity to really excel in aviation. And looking at your background and all of your efforts, you seem like the perfect person that deserves this recognition".
Ann Corby added, "We're very impressed with your accomplishments and interested in seeing you succeed in the field of aviation".
Ingrid was so very thankful. She said, "I love flying and this will help me continue flying".
We asked her what sparked her interest in flying and she said, "I've always been interested in aviation since my family took me to airshows when I was younger". She attended the Aviation Challenge Camp in Huntsville, AL, when she was 10 and decided that she wanted to become a pilot. "It was like a Navy Top Gun camp and we got to fly simulators. It was a lot of fun". Her goal is to become a helicopter flight instructor in search and rescue.
Currently, she's attending the University of North Carolina (UNC) at Elizabeth City State University (ECSU) and is majoring in Aviation Science, enrolled in the Flight Education Program.
When asked how long it takes to become a pilot, she replied, "During your first semester, they put you in a ground school class to get you ready for the first private pilot's written test. They assign you to a flight instructor, so you can start flying, and earn your private pilot's license". You have the opportunity to become a Certified Flight Instructor (CFI) or to be a Commercial Pilot. "They have really good flight instructors. They also offer certifications in unmanned aircraft, aircraft control, airport management, and avionics."
Ingrid just finished her first semester. She'll be getting her private pilot certificate at the end of the semester and all her certifications by the end of her senior year.
Ingrid's Mother, Gail Watts, was excited to tell us about ECSU. She said, "It's a historically black college. I always knew it to be a teaching school until Ingrid's Headmaster at Epiphany School told us about their Aviation Program". After researching, "I realized it had everything that Ingrid wanted and it's right here in Eastern NC and it's not $70,000 a year! It's also a Promise College. As we learned more about it, we realized that they've had this program for the past 20 years and it's completely accredited".
We asked her how many women were in her class and she said, "There's only 15 freshmen in my class and I'm the only female. There's only four women in the flight education concentration." Virginia pointed out that we need more women in aviation and it was surprising when Jay Figueroa said, "Only 5 – 6% of pilots are women".
Times are changing, and this is the perfect time for more women to become pilots! If you haven't heard, there's a pilot shortage and it will continue to worsen in the next decade!
It was refreshing to learn about the Flight Education Program in hopes that it will encourage others, especially today's youth, to consider becoming a pilot! If you think you can't afford it, Ingrid said, "They have a cooperation agreement with the U.S. Coast Guard, called the College Student Pre-Commissioning Initiative (CSPI). After your freshman year, if you have good grades, you can apply to the Coast Guard. Once you go through bootcamp, you become an active member of the Coast Guard and they pay for all student fees. It's the only school that has the program".
Ingrid encourages those who are interested in flying that, "Aviation is a very good way to go, once you have that passion for it, you can't erase it, it makes you want to learn more and keep going after it."
Members of the EAA Chapter 1171 are aviation enthusiasts, some are pilots and plane owners, and some aren't. They have approximately 30 members locally and they're always looking for new members! Jay Figueroa said, "We don't teach people to fly, we are an education source for people who may be interested in flying as a hobby or commercially".
They also have The Young Eagles Flight Program that's designed to provide information about aviation to spark young people's interest. Some of their educational facets include aviation weather, opportunities for women in: aviation; the military, and aviation maintenance, among other topics. They also take the youth on a tour of the Coastal Carolina Regional Airport's Control Tower and on a short flight on a small general aviation aircraft.
When the topic of their Summer Scholarship Fund came up, Gail Watts said, "That's a big part! You helped Ingrid twice to go to flight camp and that was enormous because it was a time when we couldn't have done it for her".
For more information, call Karen Baskin, President at 252-626-9710
By Wendy Card