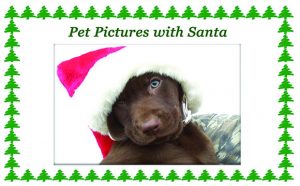 Sunday, December 9th
12:00 p.m. – 3:00 p.m.
Join Craven Animal Hospital for a special Holiday Celebration with your pets! Get their pictures taken with Santa for free or consider donating as the funds raised will go to Top RJ Animal Rescue.
All pets must be current on their rabies vaccination.
Hot chocolate and cookies will be provided for Santa's human visitors.
Please call 252-637-4541 to reserve your spot!
We look forward to seeing you at Craven Animal Hospital located at 4603 Old Cherry Point Rd.
Submitted by: Gary Hightower, Practice Manager, Craven Animal Hospital
252-637-4541