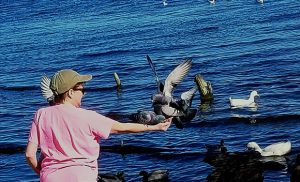 "In every walk with nature one receives far more than he seeks." – John Muir
Stress can be positive in short bursts and it may help us get motivated, focus, and improve performance. But if the stress becomes long term, it negatively impacts our lives and it can lead to depression or other health problems.
How do you cope with negative stress?
Some people meditate or exercise. Getting outside has always worked for me. Some of my favorite stress relievers are taking a walk in the woods, watching wildlife, fishing, paddling, or sitting around a campfire. There're also numerous outdoor activities that are very popular like biking, hunting, walking, picnicking, feeding the ducks, or sitting on a park bench and people watching.
Some local hot spots include: Lawson Creek Park, Glenburnie Park, Creekside Park, Union Point Park, Latham-Whitehurst Park, New Bern's Civil War Battlefield Park and my favorite – the Croatan National Forest!
If you think it's too cold, consider putting "hot hands/feet" warmers in your pockets or on your socks.
Please know there are some trails and roads that are closed in the Croatan due to Hurricane Florence. Here's the latest closure map of the Croatan National Forest. Be aware that it's deer hunting season until January 1, 2019 so where orange or bright clothing and stay on trails.
If you're not familiar with the Croatan, bring a compass as a backup as the GPS can't always be relied on because of the thick cover. You don't want to be stuck in the middle of the woods surrounded by swamplands with no GPS reading. Another tip: make sure you park on the side of the road that you are hunting on. If you get lost, the Rangers will know where to look for you.
We would love to hear what you do to unwind and take the edge off as our goal is to learn from each other!
Visit New Bern Now's Facebook page or sign up for the latest updates by submitting your email address in the right margin on New Bern Now's website.
Wendy Card