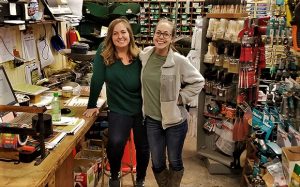 Walking into Mitchell Hardware is always a fun experience, no matter what the season; but you can't help but get in the Christmas spirit this time of year.
Yesterday, I had a great time catching up with owners, Lindsay Sims and Winnie Smith! They were excited to tell me about their upcoming event on Saturday, December 1st… Ladies Night from 6 – 8 p.m.
It's gonna be a wonderful time as they will be unveiling new products, you'll meet new people, and catch up with old friends!
Enjoy food samples and wine, meet their vendors, and so much more!
Some of the highlights include:
– Meet Potter Joyce Basey.
– Keeping it local, they've partnered with Bellator Roasting Company, as they've been carrying two of their coffee blends. Be the first to try the custom blend that was specifically designed for Mitchell Hardware during Ladies Night! Although I know the name, I'll leave it up to you to find out for yourself! Hint: it has to do with pecans and bourbon. Lindsay said, "It felt like it was a great fit for the old-timey store".
–  They'll have lots of food samples like some of their mixes and dips.
– The Author of their Muffin Meals Cookbook, Allison Worrell, will be there and they'll make some meals with recipes from her book including sweet and savory and Buffalo muffins!
– Winnie said, "One of the best parts… we have brand-new gourmet caramels – melted scotch, rosemary truffles, ginger fusion, and black lava sea salt. All of these will be samples during Ladies Night!
– New Holiday Décor along with products that will remain a secret until Ladies Night!
– Although we normally stroll down the aisles, don't be surprised to see people dancing down to favorite Holiday music!
Please know that although it's called Ladies Night, everyone is welcome as everyone needs a night out. Jen said, "The last Ladies Night we left with the biggest smiles on our faces, not as if we were leaving work; but leaving a party!"
They're also gearing up for Christmas Eve as they'll be open from 7 a.m. – 3 p.m. Why? Because they're carrying on a Family Tradition. Not only for them, but for so many people who have been coming to Mitchell Hardware on Christmas Eve for years! Winnie said, "One of the families is the Mill's brothers. Four of the brothers come in the first thing in the morning." "Dad was always open and we're going to do the same thing. It's always fun".
I commend Lindsay and Winnie for their passion and commitment to Mitchell Hardware and our Community! We know that your Dad, New Bern's Beloved Greg Smith, is with you and we know he is so proud of you. Thank you, ladies!
Mitchell Hardware is much more than a store, it's a large part of the fabric that makes Downtown New Bern so special. It's a gathering place and you're always welcomed with a greeting and "Do you need any help finding anything"!
Visit Mitchell Hardware at 215 Craven St., call 252-638-4261, or check out their website.
Please let us know if you have any comments or suggestions by sending an email or by calling 252-259-6853.
Wendy Card