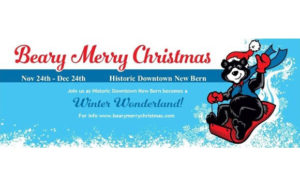 Our Elf Squad would like to give our supporters and local business community an opportunity to showcase their businesses during the 2018 Beary Merry Christmas season.  The first opportunity will be at the Community Christmas Tree Lighting on Saturday, November 24th.
With the event moving to Union Point Park, our community and committee has more opportunities.  Gates will open at 4pm with Mistletoe Market open for business.  The Mistletoe Market includes food vendors, nonprofits and retail vendors.  Reindeer games sponsored by New Bern Lions Club, crafts and sledding, sponsored by Young Urban Professionals, will begin at 4:30 p.m. lasting through 8:30 p.m. with the tree lighting ceremony promptly at 5:30 p.m. Other activities are being planned which we hope will keep folks around in the park through the end of the event at 8:30 p.m.
If you would be interested in vendor space at the Christmas Tree Lighting on Saturday, November 24 please reach out to us by 10 a.m. Thursday, November 15th.  Vendor space is very limited.  Cost is $25 for non-sponsors and FREE for sponsors.
Set up will need to be completed by 3:30 p.m. and tables/tent need to be provided by vendor. If you are planning a craft, please note that 2017 brought over 3,000 spectators to the tree lighting.
If you have any questions please feel free to reach out to Amanda at 252-671-1196.
Light Up the Season Weekend
Friday, Nov. 23 – Santa's Arrival Celebration
Activities & Entertainment 4 – 7 p.m.
Saturday, Nov. 24 – Community Christmas Tree Lighting
Tree lighting, Entertainment, & SLEDDING
5:30 p.m. Ceremony
4:30 p.m. – 8:30 p.m. Sledding
Sledding Shopping Sunday
Sunday, Dec. 9
LIVE Window Displays
Friday, Dec. 7 (please note date change)
Thank you to everyone who has already made their commitment to support Beary Merry Christmas 2018.
Visit BearyMerryChristmas.com for a complete list of holiday event happenings.
Submitted by: Amanda Banks, Beary Merry Christmas Committee Chair – Downtown Council, A council of the New Bern Area Chamber of Commerce