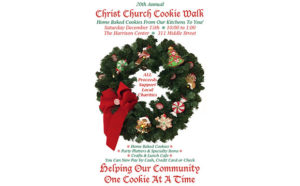 December 15 from 10 a.m. to 1 p.m. 
Christ Episcopal Church will host its 20th Annual Cookie Walk at the Harrison Center on 311 Middle Street.
Enjoy live music while you take in the sights and smells of the thousands of homemade cookies for sale. The Cookie Walk Café will offer sandwiches, savory snacks, and your favorite beverages. Come early to get the best selection.
All proceeds from this event go to local charities. Helping our community, one cookie at a time. Contact Lacee Smith at 631-1312 with questions.
Submitted by: Lacee Smith, Christ Episcopal Church