The drawings for those participating in the PIE Membership Drive were presented their checks!
Lindsey Cornwell, Havelock High and Laura Lambert, Arthur W. Edwards Elementary were presented checks by Deborah Langhans, Chief Academic Officer for Craven County Schools.  Pictured left to right are Laura Lambert, Lindsey Cornwell, and Deborah Langhans.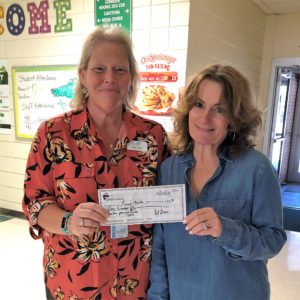 Penny Newton, W.J. Gurganus Elementary (right) was presented a check by Debra Hurst, principal at W J Gurganus Elementary (left).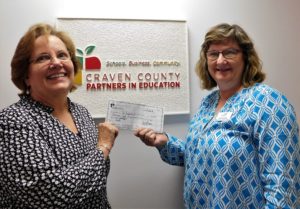 Jo LaFond, New Bern High (left) was presented a check by Lynn Hardison, Director of Exceptional Children Program for Craven County Schools.
For information on how you or your organization can support Craven County Schools through Partners In Education, contact Darlene Brown at 514-6321 or visit our website at CravenPartners.com.
Submitted by: Darlene Brown, Executive Director, Craven County Partners In Education