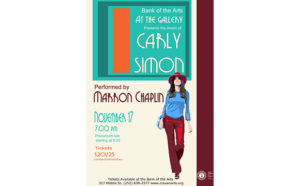 November 17th at 7 p.m.
Craven Arts Council & Gallery is proud to present "At the Gallery: Carly Simon," performed by Marron Chaplin. The hit singer and songwriter of "You're So Vain," Simon was a power house of the 1970's pop music scene who won numerous awards.  The concert takes place at Bank of the Arts, 317 Middle St, on November 17. The concert begins at 7pm, with a preconcert discussion of the composer's life starting at 6:30.
Hoping to cope with a stutter at the age of eight, Carly Simon turned to music, both singing and songwriting. After a short career with her sister as "The Simon Sisters," her self-titled debut album won a Grammy for Best New Artist, starting her international career. Often topping the charts throughout the 1970's, Simon's unique voice and songwriting talent won her critical acclaim. Simon is the first artist to ever win an Academy Award, a Grammy, and a Golden Globe for a song written, composed, and performed by the same artist. Her career included numerous Billboard hits, 2 Grammy Awards, induction in the Songwriter Hall of Fame, and the ASCAP Founder's Award. Hit's include "You're so Vain," "Anticipation," and "That's the Way I've Always Heard It Should Be."
Marron Chaplin is a multifaceted singer, songwriter, guitarist and piano player whose sound ranges from monster rock riffs to piano ballads, acoustic storytelling, and classic blues guitar solos. She been a member of numerous bands in addition to her solo career, and is currently touring between eastern North Carolina, New York City, and Nashville.
For more information please contact Jonathan Burger, Marketing and Gallery Director, Craven Arts Council & Gallery, Inc. at the Bank of the Arts, 317 Middle St., New Bern, 252-638-2577.
Submitted by: Jonathan Burger