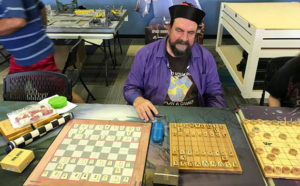 The Asian Games Club of New Bern will meet at Bear's Lair Games in Berne Square on Sunday afternoon October 28.
Come learn and play Xiangqi (Chinese Chess), Shogi (Japanese Chess), and other East Asian strategy games.  Additional games, such as Go/Weiqi/Baduk, Makruk (Thai Chess), and Janggi (Korean Chess) are available on request.  Equipment and clear, concise English-language instruction is provided.  No dues, no membership – just show up and play!  It's free, and fun!
The October Asian Games meeting will be at 1:00 PM on Sunday, October 28.  Bear's Lair Games is located at 2680 Dr. MLK Jr. Blvd. in Berne Square, not far from Big Lots and Planet Fitness, New Bern, telephone 252-635-5247.  Bear's Lair Games got clobbered by Hurricane Florence but is cleaned up and open for business.  On Sundays, Bear's Lair Games is open from 1:00 to 6:00 p.m.
Submitted by: Simon Spalding, Asian Games Club of New Bern