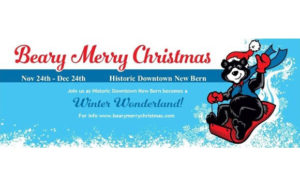 We are only 5 weeks away from the kick off to the Christmas season in New Bern.  Our Elf Squad is making final preparations for the transformation of Bear Plaza starting the 1st of November.  With the holiday season quickly approaching I wanted to take a moment to send out a few important dates for you to take note of.  We will have event posters coming out the end of next week.
Sponsorship opportunities:  We have extended the sponsorship deadline to be included in advertising to October 26, 2018.  Click here for sponsorship packet.
Downtown Council Meeting (Christmas Update)
Farmer's Market
October 25th 5:30pm
Decorating Weekend
Bear Plaza
Nov. 9th & 10th
Light Up the Season Weekend
Friday, Nov. 23 – Santa's Arrival Celebration
Activities & Entertainment 4-7pm
Saturday, Nov. 24 – Community Christmas Tree Lighting
Tree lighting, Entertainment, & SLEDDING
5:30pm Ceremony
4:30pm – 8:30pm Sledding
Sledding Shopping Sunday
Sunday, Dec. 9
LIVE Window Displays
Friday, Dec. 14
THANK YOU to everyone who has already made their commitment to support Beary Merry Christmas 2018.
Submitted by: Amanda Banks, Beary Merry Christmas Committee Chair – Downtown Council – A council of the New Bern Area Chamber of Commerce