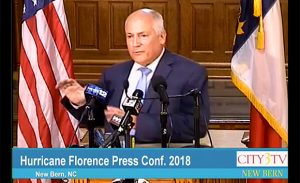 The City of New Bern held a press conference this morning at 9:30 a.m. at City Hall. City Officials present were Mayor Dana Outlaw, Mayor pro tem Sabrina Bengel, City Manager Mark Stevens, City Engineer and Utilities Director Jordan Hughes, Fire Chief Bobby Boyd, and Police Captain Bobby Jones.
Mayor Outlaw started out by saying, "We felt that it is very important at this time to reach out and communicate what is happening in your city and what the recovery process is going to be". As he introduced everyone, he said, "These guys have been 48 hours without sleep at times. I know 459 employees, many of them have homes with flood damage and their loved ones are sitting at home while they are sacrificing for the welfare of 30,000 residents. I can't begin to thank the staff of the City of New Bern for what they're doing and what they're going to continue to do. Mayor pro tem Bengel has been so involved in the process of getting goods, cleaning supplies, water, and food to the City so we're working now as a coordinated effort. This is a two-tier approach to how we're gonna get through this and get this city right back to like it was a week ago. We're gonna do our part as government, but it's gonna take a lot of volunteer effort."
Mark Stevens said, "Our City has suffered one of the most devasting storms in our 308-year history. As you can expect, this is a significant setback at the hands of mother nature, but we will prevail. Preparations for Hurricane Florence began approximately a week in advance of the arrival of the storm. Our Emergency Operations Center fully mobilized on Wednesday. Over 400 of the finest and most professional and dedicated staff have been working tirelessly over the last four and a half days to mitigate the impacts of this storm to our citizens. Preliminary data being compiled shows over 4,300 homes that have been damaged or destroyed. Additionally, approximately 300 businesses have suffered the same fate. We expect that numbers to increase as evacuees come back to town and get the first look at their homes and their businesses.
City Inspectors have begun a more detailed assessment of these damages yesterday morning and it is anticipated that this task will take several weeks for us to complete city wide. On day one of our assessment, damages have already been estimated in excess of $6 million. The President has signed a Disaster Declaration for North Carolina which will speed up Federal aid to our State and open avenues for individual assistance for our residents, businesses and non-profits.
During the storm, New Bern Fire and Rescue, New Bern Police Department, swift water rescue teams from lots of different places, and New Bern Parks and Recreation staff rescue over 800 people from flooded homes and transported them to safety at our County operated shelters. Also, numerous brave volunteers with their own trucks, boats and assets risked their lives to save others and we greatly appreciate that. Staff and volunteers came from numerous locations nearby such as Cary, Greenville, Currituck, Elizabeth City and as far away as places like Houston and Boston. Thus far, we have no known fatalities.
Several structural fires also occurred during the storm and our brave souls with the New Bern Fire Department fought those fires.
Our dity not only cares about the lives of our citizens, it also cares for the welfare of our citizens pets. New Bern Police Department took extra steps to activate its Animal Control Officer during the storm transporting family pets to the Colonial Capital Humane Society for safe keeping while citizens were evacuated to shelters. Their volunteerism and commitment to the safety of animals in the midst of severe weather was truly inspiring. Their efforts continue today alongside National services to continue the safekeeping and veterinarian care of our citizens beloved pets.
The New Bern Police Department continue their efforts by providing routine police services to all areas of our city during the recovery period. Greenville Police Department has assisted in those efforts and they have provided about 20 Police Officers. They're providing security at our local shelters. They're providing additional efforts on the areas where we've received the most damage. Our city is at risk and is vulnerable to looting, vandalism, and other criminal acts. We are using Police Officers and members of the North Carolina National Guard to secure these areas and prevent unauthorized access. Additionally, they are conducting patrols in many areas of our city to ensure that our city remains safe. To date, there have been no arrests.
Mark Stevens finished by saying, "Over 22,300 customers lost power. Over 80% of power has been restored. Consider any electric wire on the ground or exposed to be live until electric crews have restored them."
Mayor pro tem Bengel thanked the city's staff for all of their tireless work. She thanked Alderman Jamessha Harris as she personally went to Trent Court in waste high water pulling out people in need Thursday night.
She said, "As we move forward, it will take every citizen coming together to help our neighbors. Please help your neighbors. We have tractor trailors of goods and services coming our way. PepsiCo Foundation donated $1 million to the Salvation Army and the Red Cross and a promise of 350,000 meals from their Food for Life Program. Special thanks to Jeff Minges of the Minges Bottling Group for making that happen.
We are coordinating major efforts through Religious Community Services (RCS). Who can do anything better than house people and feed people than RCS. There are local churches, there are volunteers and we're very appreciate that they have stepped up. Scott Murphy, Interim Director, RCS is coordinating the effort. If you have a group, church, someone from out of state that wants to send large quantities of food, clothing, and/or supplies, have them sent to the Amital Building on Bosch Blvd. They will be funneled through Distribution Centers like Without Limits Church, the Harrison Center, Latitude Church, and the Omega Center. We are working with Day Spring Church and The Resource Center. We are going to spread them out in areas that need them our citizens in Woodrow, Trent Court, the Downtown Historic District, Downtown Businesses need our help. So if you want to donate money, you can donate to RCS and it will stay in our community, visit: ContinueToGive.com/florencerelief or text to give at 715-803-4772.
I'd like to recognize a group of citizens being led by Vincent Frazier with the Appliance Discount Store. They are repairing homes, cutting trees, taking things out of homes, etc. throughout Craven County. If you need assistance, contact Vincent at 252-617-6688."
Mayor pro tem Bengel finished by saying, "We have many elderly people who are alone. We need to check on everyone. We are New Bern Strong. I have no doubt that we will come back better than ever. Because when people come to our community, what they remark most about is our people. So it's up to us, we're gonna do it. Please be patient about the electricity. We are doing everything humanly possible. We want you to have power."
The following are answers to some of the questions from the audience:
– We're not aware of Duke Energy statistics.
– There are 150 Utility Professionals from across the State.
– We have not seen any looting, but we hope that citizens are looking out for their neighbors and report any suspicious activity to the Police. The Citywide curfew has expired. We will be looking at implementing a curfew in restricted areas for tonight.
– Debris Management: please separate leaf and limb debris from construction debris and place it at the curb.
– Regular trash pickup will be implemented soon, hopefully on Wednesday.
– Small Donations: deliver to RCS or the many churches that are accepting donations for RCS.
– If you're an out of the area electrician and are willing to volunteer your service, please email Sabrina Bengel.
– Please be cautious if you have contractors asking for money up front. Unfortunately, there are scammers out there that will take advantage.
Please know that this is only a summary of the press conference. You can view the video in its entirety on New Bern's City 3 TV Channel or here: NewBernNC.swagit.com/play/09172018-536.
My heart breaks for everyone who suffered great losses and my thoughts and prayers are with you.
I'd like to personally thank the City of New Bern and all agencies and individuals involved in their immediate response to this devastating storm.
I believe that we will overcome this if we all come together to not only help our family, friends and neighbors, but people we may have never met. Hurricane Florence may have left destruction that we have never seen before, but the people of New Bern and Eastern NC are resilient and beyond caring.
Together we're #NewBernStrong and we will bring our beautiful city back to life!
Wendy Card