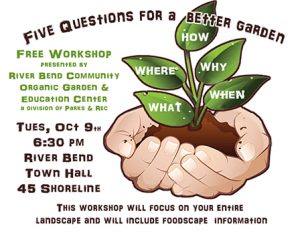 Whether your garden is struggling or thriving, you can always do something to improve your space.
The River Bend Community Organic Garden and Education Center will present a free workshop, Five Questions for a Better Garden on Tuesday, October 9, 2018 at 6:30 p.m. at River Bend Town Hall.
Five simple questions: where, why, what, when, how. The details of the answers will help you build a better garden. A departure from our usual workshops, this workshop will focus on your entire landscape and will include foodscape information. Presenter Samuel Bean is a Horticulturist at Tryon Palace and owns a business called The Plant Coach.
Following the session, fall and winter-veggie themed refreshments will be served. Our gardeners will share with you some of their favorites.
Our workshops fill up. RSVP recommended. Contact Dee Smith at 252-634-3192.
Submitted by: Connie Casey