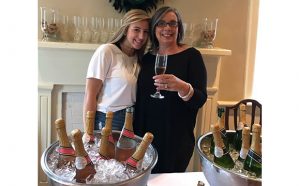 Did you know there is a wine membership club right here in New Bern? Cammie Lee, the owner of Savi's Wine & Cheese on Pollock street, two blocks from Tryon Palace says her place is all about wine, food, and friends.
She opens her heart and her historic 1770's home to residents and visitors.  She started the membership club in order to thank her loyal customers, who enjoy substantial discounts on wines, private tastings and early notification on special events including travel to wine country destinations.
Twice monthly, people gather in this intimate historic home to enjoy a paired dinner with five wines.  Seating is arranged so you can meet new friends or larger groups can enjoy a more private setting in the wine room. You always meet the chef and a qualified wne representative presents the wines and answers questions.
Members are also invited to a wine and cheese tasting twice monthly. Cammie provides a lavish arrangement of cheeses, bread, and crackers and a wine expert pours four to five upscale wines. Considerable discounts are offered on all purchases and members are allowed to bring guests.
Perhaps you would like to gift wine but don't know what fits the person's palette? Cammie has you covered with a gift certificate in any denomination or you can gift a wine dinner. It's a thoughtful gift for visitors or new residents, anniversaries, birthdays or other special occasions.  Visitors to New Bern who may want to gift a friend who made their stay special can call in or come by to make arrangements. Cammie will even deliver the gift certificate in person.
Are you just interested in great wine at a great price? Savi's prices are lower than the competition. It's easy to know what other stores charge, so Cammie makes sure she is always lowest.  Come on in and browse the shelves to see for yourself. She can also order any wine available in Eastern North Carolina for the same low price.
There's nothing better than enjoying wine where it is made.  That's why Savi's is inviting members and friends to go on wine exploration trips. In September, fifteen people are joining Savi's for a ten-day excursion to Tuscany and Florence, Italy.  Coming up next is an eight-day River Cruise Vineyards & Chateaux trip to Bordeaux, France. It is set for July, and will likely sell out fast, so if you are interested, contact Savi's.
I'm a Sommelier and wine professional (WSET) who relocated here 4 years ago from Northern California wine country (Napa/Sonoma). Imagine my surprise when I went out to dinner and was asked, "white or red?" It was culture shock for sure.  When I saw Savi's on Pollock Street one day, I was hoping it would be the real deal. It is. Cammie knows her wine and she makes everyone feel comfortable, novice or expert. Stop in Monday – Saturday 1 pm – 6 pm and say hello. Maybe you'll walk out with your new favorite wine. You'll definitely have a new friend.
Submitted by: Alana Gentry, Wine Sommelier WSET