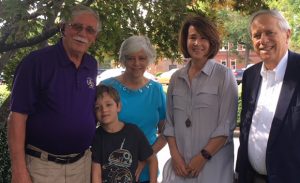 Tom and Debra Ballance, owners of Captain Ratty's Seafood and Steakhouse, have formed a new partnership with Buzzy and Carol Stubbs as co-owners of the restaurant effective August 6th. "Management and operations will continue as they are and the restaurant will continue to provide all the wonderful menu options and exceptional services that we have been offering the local community for the last 20 years.  However, our dear friends and professional colleagues, Buzzy and Carol Stubbs, will be partnering with us to make a few enhancements over the next several months." states Tom Ballance.
Tom and Debra founded Captain Ratty's in 1999 as a seafood restaurant after briefly operating a nautical gift shop.  As Tom says, "I figured we could do a little better selling seafood than continuing the gift shop. We love the business, have made a lot of friends and appreciate the response the community has given us."  Tom is an original New Bernian.  He finished high school here, lived in Atlanta for a period of years then returned to his hometown, New Bern, in 1996.  Tom ran for mayor in 2001 and has been active in civic affairs since that time.
Stubbs commented, "It is a good fit.  Tom and I have been good friends and business associates since he started the restaurant.  Carol and I are glad to be a part of it going forward.  We hope to add to Tom's and Debra's success."
Ballance added, "I would like to evaluate what improvements we can make to the restaurant but it's important to maintain the tradition of what Ratty's has uniquely been offering the local community with our menu selections and services.  We believe that our new partners can help us add to our growth.  We are bullish on downtown New Bern, our prospects for improving the food service business, and creating a new energized "hype" about dining in downtown.  We hope everyone will come see us as we move forward with these important changes in the months ahead."
Captain Ratty's is a full-service casual to upscale dining experience.  The restaurant is open for lunch and dinner seven days per week and serves breakfast on Saturdays and Sundays.  Located in one of New Bern's historic landmark buildings, Ratty's offers four distinctly separate levels of dining space, including a wine bar, event space, and roof-top dining.  To make reservations or book your next party or event, please call (252) 633-2088.
Submitted by: Millissa True, SBS Forward, LLC