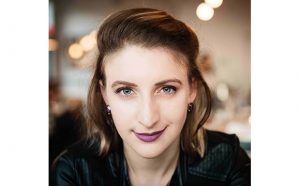 Salina Solomon headlines The Brown Pelican show to promote new EP 20/20
Rising Nashville-based alternative pop/rock artist Salina Solomon returns to The Brown Pelican in New Bern with her high energy acoustic show on Saturday, September 8. She will perform for owner Heather Haiss's birthday bash, while promoting her new EP titled 20/20. The Brown Pelican is located at 411 Broad Street. The show begins at approximately 9:00 p.m., and there is no cover.
A powerhouse vocalist with more than 3,000 song credits to her name, Salina Solomon has established herself as a skillful songwriter and an entertaining storyteller. Her new five-song EP 20/20 is a pop-laced flight of euphoria, bluntness and heartbreak, with a sound that can be described as Lady Gaga meets Florence and the Machine. 20/20's broad spectrum style showcases Salina's multi-octave range underlaid by multiple genres, but most notably: 80's pop, 90's electronica and classic rock influences. Together, they give listeners a visceral experience that will leave them torn between wanting to jump around and dance, and falling to their knees and cry.
Hear Salina Solomon's 10 Minute Tune On Ty, Kelly & Chuck Morning Radio Show, 8.15.18
On stage, Salina ignites the crowd with her energetic and quirky personality, while showcasing her powerhouse vocals and impressive guitar skills. Her talent and growing fanbase are taking her to venues across the country, where she performs to sold-out crowds. Since early 2015, she has played more than one hundred shows across the country, at locations ranging from the waterfronts of Texas to the urban jungle of New York, and even Nashville's famous Bluebird Café.
Planet of Sounds Promotions says her performances, "[Feel] like the 4th of July every time she plays. She has a voice to be reckoned with and the songwriting skills that make for a powerful combination!" Digital Journal named Salina one of the 'Top 5 Female Artists to Watch in 2017.' L&M Publications and South Shore Arts describe her as someone who "stands out as a unique talent among the masses of aspiring singer-songwriters."
Salina's first single "Unacceptable", from her debut EP TMI, topped the charts 14 weeks straight on Internet radio station VRadio Nashville. Since then, her singles have consistently charted on VRadio Nashville, scoring hits with self-penned tunes "Somewhere", "Tool", and "What Do You Say?", the number one single from her second EP Meet Me in London. Salina's music is also generating an international buzz with airplay in markets such as the Netherlands, the United Kingdom and India.
Today, in addition to performing across the country, Salina lends her time to charities that support education and military veterans. Most recently, she partnered with Magnet Schools of America to create a college scholarship fund in memory of her grandmother, Josephine Markl. Mrs. Markl was an advocate for education, and Salina's biggest cheerleader in her career. The first scholarships will be presented to high school seniors in April 2019.
For more information on the show, visit Facebook.com/Brownpelican.net/. Get the latest news from Salina at SalinaSolomon.com and at @hisalinasolomon on Facebook, Instagram and Twitter.
Show Info: Saturday, September 8, 9:00 p.m., The Brown Pelican, 411 Broad Street, New Bern, 252-631-5008 – No cover
Submitted by: Sherry Parfait, Parfait Media