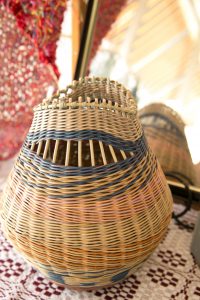 Celebrate the height of summer with a "Sun-sational Sidewalk Art Show" at Community Artists Gallery & Studios during New Bern's Art Walk on Friday, August 10. The nonprofit organization's 33 member-artists have been invited to contribute sun-themed works to display outside their gallery at 504 South Front Street, across from the Farmers Market.
Ceramics, oil & acrylic painting, stained glass, macramé, photography, jewelry, wood and vintage silverplate items, fabric arts, and more will be represented at the festive summer-inspired show, and all work will be for sale. There also will be refreshments from Tasty Thai food truck and special activities such as a raffle. "We're letting the summer's heat fire us up," said Sandy Bruno, president of the organization. "You'll see shining examples of the best in our fine arts community."
Two of those shining examples will be the gallery's Artists of the Month, painter Mary Phelps and stained glass and basket-maker Simone Houle.
Although born in New Bern, Phelps moved to Virginia as a young child.  After retiring from a career as a system analyst with the federal government, she returned to her hometown. She began her artistic career as a decorative painter, then quickly moved to oil and watercolor painting through workshops and local classes. An Art Walk several years ago was her introduction to Community Artists Gallery and Studios, where her work has now found a home in a studio.
Houle creates baskets and stained glass, exhibiting both in the Community Artists' gallery.
Visit us during Art Walk is from 5 – 8 p.m. at 504 S. Front St. For more information, email.
Submitted by: Lisa Seeber, Public Relations, Community Artists Gallery & Studios