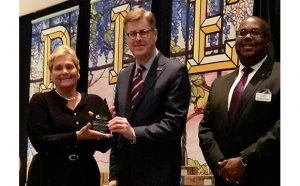 Partners In Education recognized Barbara Dotterer at the PIE Spring Luncheon with the 2018 Volunteer of the Year Award in recognition of her significant contributions and faithful service to the ideals and mission of PIE.
Presenting the award to Ms. Dotterer are Dr. Cecil Staton (Chancellor, East Carolina University) and Ervin Patrick (Craven County Schools, and PIE Board President).
For information on how you or your organization can support Craven County Schools through Partners In Education, contact Darlene Brown at 514-6321 or visit our website at CravenPartners.com.
Submitted by: Darlene Brown, Executive Director, Craven County Partners In Education