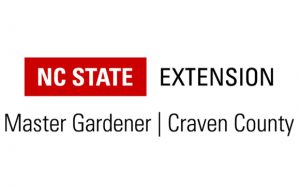 Saturday, July 21st, 9:00 am to 11:30 am
Prior to our workshop we will conduct our monthly tour of the demonstration gardens from 9:00 am to 10:00 am with Master Gardeners highlighting plants of interest and in bloom.
Our monthly plant sale runs from 10:00 am to 10:30 am, featuring plants grown by our Master Gardeners.  The plant sale continues after the workshop concludes.
10:30 am to 11:30 am – Workshop: 'Plant Diseases and Herbicides"
Workshop conducted by Craven County Extension Director Dr. Tom Glasgow
Sponsored by: Craven County Cooperative Extension and Facilitated by Craven County Extension Master Gardener Volunteers
Time will be allowed for questions.
FREE horticultural information handouts will be available.
These programs are free and open to everyone! Great Family Education!
Call 252-633-1477 for more information.
Located at Craven County Cooperative Extension 300 Industrial Drive – New Bern Exit 409 off Hwy 70 W – Clarks Road.
Submitted by: Joanne Celinski