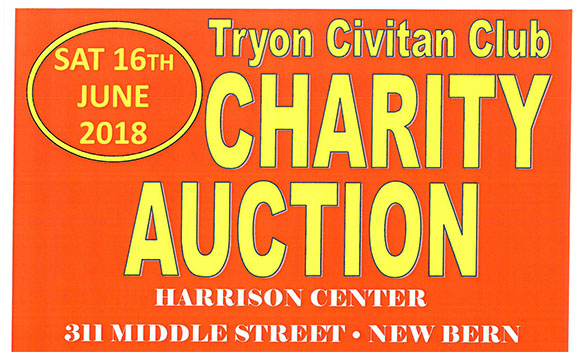 The Tryon Civitan Club will be having a Charity Auction on Saturday, June 16th at the Harrison Center located at 311 Middle St in New Bern.
Preview of the items will begin at 5:00 p.m. with the auction starting at 6:00 p.m. Mike Best is the auctioneer & there'll be live as well as silent auctions. Light refreshments will be available for sale.
Come & grab a bargain or just enjoy the auction atmosphere!  There'll be everything from treasures to knick knacks, and even scrumptious baked goods to bid on.
All of the proceeds will go to local non-profits; some of the non-profits that Tryon Civitans support are Habitat for Humanity, Coastal Women's Shelter, Craven County Special Olympics, the Twin Rivers YMCA and many others.
All items will be sold "as is" and must be removed by the end of the auction.
For additional information please call Tryon Civitan's Auction Chair Juliet Meyer at 636-3588.
Submitted by: Pat Drake, Tryon Civitan Club