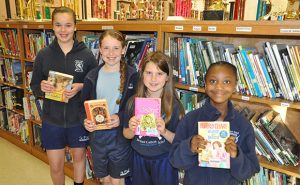 The North Carolina Reading Association (NCRA) recently honored four Saint Paul Catholic School students for their writing excellence in the annual NCRA Young Authors Invitational at the Convention Center in Raleigh. This year's theme was "Show Your Strength."
The winners from Saint Paul were: Amber Elliot-7th Grade, Be Yourself; Cara Edwards-5th Grade, Afraid of the Ball; Becky Grear-3rd Grade, Strength in Friendship; and Ava Davis-1st Grade, Swimmer's Challenge.
The Young Authors were invited to submit fiction or non-fiction prose or poetry describing their personal experiences with perseverance, overcoming obstacles, how they found strength in a time of weakness, or how they could rise above a particular challenge.  Students submitted their work for the regional competitions and then moved on to the state wide event.
"We are so proud of our Saint Paul students.  We are a small school in New Bern, NC and we looked big when our four state finalists traveled to Raleigh to accept their awards," noted Deacon David Kierski, Saint Paul Administrator. "At Saint Paul we encourage our students to become excellent communicators through writing and speaking."
Success begins @ Saint Paul through faith, academics, & integrity. Saint Paul Catholic School offers a rigorous classical curriculum where the children are taught to listen carefully, explore fully, and think critically. We welcome students of all faiths.
Submitted by: Jane Maulucci, The Reactive Voice, LLC