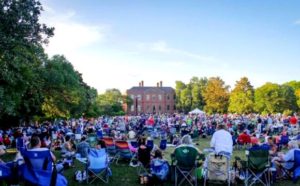 UPDATE: Due to inclement weather, the North Carolina Symphony's "Concerts in Your Community" will be visiting New Bern, June 26, at the New Bern Riverfront Convention Center.
This event is free and open to the public; no ticket is required. Conducted by Wesley Schultz, the North Carolina Symphony invites guests to enjoy great moments in classical music, including Mozart's The Magic Flute and Eine klein Nachtmusik,Rossini's The Barber of Seville, and Berloiz's Roman Carnival Overture.
Doors to the public at 5 p.m. The North Carolina Symphony performance begins at
7:30
p.m.
For more information, visit Tryonpalace.org/events/north-carolina-symphony-performance-0.
Upcoming events at Tryon Palace include:
Juneteenth Celebration at Tryon Palace – June 21
2018 Summer Children's Movie Series: The Lego Movie – June 28
Behind the Scenes: Costume Shop Tour – July 3
Submitted by: Regina A. Ochoa, Director of Public Affairs, Tryon Palace