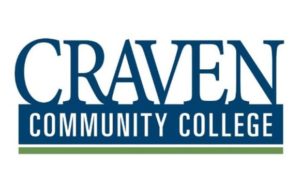 Craven Community College (Craven CC) will host its first Manufacturing Career Pathway Program beginning Monday, June 18. The program is designed to train participants in the entry-level skills required to gain a competitive edge and succeed in today's manufacturing industry.
The course will provide participants with an interactive learning experience that will enhance their awareness of the expectations a manufacturer has for their employees. It will cover several training topics to teach students about working on an assembly line, workplace ethics, interpersonal skills, welding basics, robotics, safety regulations, precision measurement tools and techniques, forklift operations and an introduction to Microsoft Word. The program also includes résumé writing, developing interviewing skills and dressing for success.
The Manufacturing Career Pathway program will consist of 80 total classroom and lab hours and will meet Monday through Friday from 8 a.m. to 5 p.m. on the New Bern campus. It will be offered in three two-week sessions: June 18 – 29, Aug. 13 – 24 and Sept. 17 – 28.
Upon successful completion of the program, participants will have earned certificates for OSHA 10-hour General Industry Safety, Lean Six Sigma White Belt, Forklift Operator and ACT WorkKeys National Career Readiness.
"Our hope is that students gain a basic understanding of the working environment of a manufacturing industry, preparing them to quickly become a valuable member of a production team," said Eddie Foster, Craven CC's executive director of environmental safety and corporate training. "With this in mind, their career pathway to success has been greatly enhanced and our local industries will have a great pool of potential employees to pull from."
All program graduates will have the opportunity to interview with a Craven County manufacturer.
For more information about the Manufacturing Career Pathway program, contact Foster at 252-638-3919.
Submitted by: Craig Ramey, Director of Communications, Craven Community College