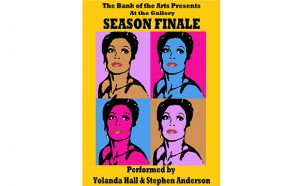 Craven Arts Council's signature concert series wraps up with finale of works from the season
June 23, 2018 at 7 p.m.
Craven Arts Council and Gallery is proud to present" At the Gallery: American Composer Finale," performed by Yolanda Hall and Stephen Anderson. The final concert of the season will feature music from each of the composers in the 2017-2018 At the Gallery series. The concert will begin at 7 p.m. on June 23rd.
This special encore concert will highlight the hits of American composers from the season, including Ray Henderson, W.C. Handy, Rodgers & Hammerstein, Stevie Wonder, Kander & Ebb, James Taylor, Paul Simmon, and others from previous seasons. The performance will provide a review of this year's season, and let audiences compare and contrast performer's takes on favorite songs.
Yolanda Hall embodies a voice that is alluring, charismatic, and timeless. Her jazz vocal expression captures her audiences and takes them on a memorable musical journey, combining jazz and classical elements, creating an atmosphere of a bygone era. Stephen Anderson is a professor of music at UNC Chapel Hill and recording artist for Summit Records. His albums have generated rave reviews and awards, including the opportunity to represent Summit at the Grammys for "Best Jazz Instrumental Album."
For more information please contact Jonathan Burger, Marketing and Gallery Director, Craven Arts Council & Gallery, Inc. at the Bank of the Arts, 317 Middle St., New Bern, 252-638-2577.
Submitted by: Jonathan Burger