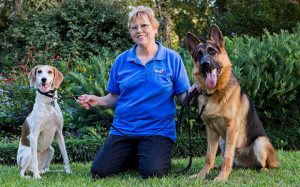 At Crockett's Critter Care our dog walking service is thriving. Our trained employees follow precise guidelines to keep your pets safe. Now that summer is approaching, we'd like to share these life-saving tips with you:
1. Learn the early signs of heat exhaustion
– Excessive panting
– Excessive or thick drool
– Reddened tongue, inside ears
– Red or pale gums
– Glassy and/or red eyes
– Anxiousness or restlessness
– Reluctance or refusal to go on
2. Take it slow and cut it short
– The more extreme the heat, the shorter the walk
3. Pay close attention to the dog
– Watch for signs of stress, difficulty breathing and pain. Don't force the dog to continue.
4. Brachycephalic dogs heat up faster
– Affenpinscher, Boston Terrier, Boxer, Brussels Griffon, Bulldog, Cane Corso, Chihuahua, French Bulldog, Japanese Chin, King Charles (& Cavalier), Lhasa Apso, Mastiff-types, Pekingese, Pug, Shi Tzu, Tibetan Spaniel
4. Find cool ground and avoid hot asphalt
– If it's too hot to touch with your hand for 3 seconds, it's too hot for paws. Keep to the shade and cross streets quickly
5. Bring room-temp water – always!
– Cold water can be too much of a shock to the system. Give the dog plenty of chances to drink. Apply to ears, paws pads, inner thighs and stomach
6. If you transport dogs, never leave them in a hot car
– If you must leave your car, leave the A/C on.
7. Check paws frequently
– Examine paws and watch for redness, sensitivity, signs of burning or pain, and head back home or cool them off with water
8. Know normal temperature
– 101 – 102 is normal. In general, 105 or above is considered hyperthermia
9. Walk in populated areas
– If you or the dog you are walking need help, there may be somebody around to assist
10. Minimize sun exposure
– Especially for hairless dogs or dogs with thin or white hair. Apply sunscreen made for dogs.
11. Take plenty of breaks
– Find some shade, take a seat and relax.  Take some time to chill as often as needed, especially in high humidity
12. When possible, walk your dog in the early morning or the evening
We believe that dogs need to get their paws on the ground for an adventure outside of the house. For when you are too busy or unable to walk your pet by yourself, our trained team of professionals is available. Let us help you make your pets happier and healthier.
For Fear Free professional pet sitting and dog walking go to CrockettsCritterCare.com. Contact Jeanne Crockett, owner of Crockett's Critter Care, by phone at 252-635-2655 or by email at crockettscrittercare@gmail.com. Happy Pet; Happy Home.
An infographic for these tips created by FetchFind (one of our core training programs) can be found on our Facebook Page at https://www.facebook.com/CrockettsCritterCare.
Submitted by: Jeanne Crockett, Crockett's Critter Care