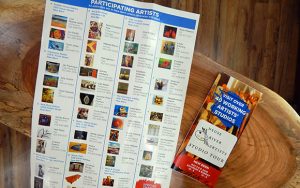 The first annual Neuse River Artists Studio Tour kicks off Saturday, May 5th, from 10 to 5, and continues through Sunday, May 6th, from 12-4. Visit almost 50 artists in their own studios and a variety of art hub centers throughout New Bern. This free, self-guided tour will make use of maps, available at each studio, to use to plan your tour. Start where you wish and choose your own route. Each studio and hub location will be designated with a sign visible from the road.
There will be a wide variety of work; the tour features painters, jewelers, photographers, ceramicists, glass blowers, sculptors, wood workers and furniture makers. Tour goers will be able to visit the studios of known local artists such as Jan Francoeur, Ed Macomber, Chris Wagner, Jill Eberle and Shelley Mathiot. Other known local artists such as Wendy Johnson, Sally Sutton, Marvin Maune and Sandy Bruno will be set up in studio hub centers. While there are too many to list, every artist on the tour excels in their talent and craftsmanship.
The studio hubs include the Greater Good Gallery, Community Artists Gallery & Studios, the Red Shoe Gallery, Large Brushstrokes, the Art & Wellness Center, Shop Class, Wine & Design, the City Laundry and The Sanctuary Gallery.
This tour gives art lovers a great opportunity to visit the artists they enjoy as they create, in the spaces that they create. Take advantage and talk to each one, learning about their inspiration for their work, as well as discovering their other interests. It is also a perfect chance to buy work directly from the artists themselves instead of a gallery and avoiding commission rates in the process.
For more information, visit NeuseRiverArtists.com, or call 252-571-8562. Maps are available before the tour at the following locations: Greater Good Gallery, 228 Craven St; Community Artists Gallery & Studios, 504 South Front St; The Craven Arts Council & Gallery, 317 Middle St; The New Bern Arts & Wellness Center, 919 Broad St; Wine & Design, 1910 South Glenburnie Rd; and The Sanctuary Gallery, 2601 Trent Rd.
Submitted by: Chris Wagner, The Sanctuary Gallery