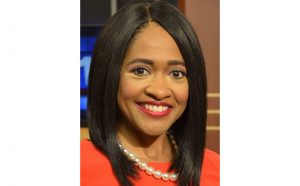 Habitat for Humanity of Craven County and Lowe's of New Bern are pleased to announce the support of local news anchor, Valentina Wilson, who will join other women as part of the 11th annual National Women Build Week on Saturday, May 12 between 12:30 and 3:00 pm at 813 and 814 West Street, New Bern.
Each year, during the week leading up to Mother's Day, Habitat for Humanity of Craven County and Lowe's encourages women to participate in this nationwide initiative uniting thousands of women in creating awareness for affordable housing in partnership with low-income families across the United States. Locally, women are being asked to sign up for one day to work on building two Habitat homes.
"I am so pleased to participate in this special event to encourage women who are willing to volunteer and lend their power, their resources, and their dedication to creating decent, affordable and safe housing in our community," explained Wilson. "I understand the two homes we will be working on are the 65th and 66th homes build by this Habitat affiliate in Craven County, which is an impressive accomplishment," she said.
Since its founding in 1989, Habitat for Humanity of Craven County has dedicated 62 homes that have impacted 98 adults and over 110 children. Habitat holds the zero-interest mortgage on these homes and to date, 13 families have fully paid off their mortgage.
Valentina Wilson anchors News Channel 12 at 5:00, 6:00 and 11:00 pm. She helped out with a Women Build in New Bern several years ago. "We are honored to have Valentina participate in our 2018 Women Build Week," said Deedra Durocher, Volunteer & Resource Coordinator at Habitat for Humanity of Craven County. "We hope her involvement will inspire other women to register for one of the seven opportunities to join us on the build site."
For further information, visit CravenCountyHabitat.org/womenbuild or contact Deedra Durocher at 252-633-9599.
Submitted by: Deedra Durocher, Habitat for Humanity of Craven County