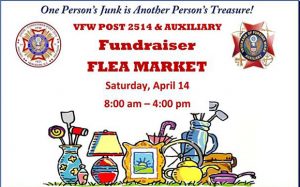 VFW Post 2514/Auxiliary is hosting a "Trash or Treasure" fundraising flea market on April 14th from 8 a.m. – 4 p.m.
This is an excellent opportunity for the public to search through indoor and outdoor vendor booths looking a special treasure while enjoying a beautiful view of the Neuse River.
Delicious hamburgers and hot dogs, hot from the grill, plus chips and refreshments are available.
All proceeds fund the veteran's relief fund and veteran support activities. A few market table locations may be available.
For more information call Melanie Rust at 757-652-0806 or visit the VFW Post 2514 Facebook page.
The VFW Post 2514 is located off Old Cherry Point Rd. in James City, at the end of Mt. Pleasant Rd. (3850 Butler Rd).
Submitted by: Dobert Owsley, Media Editor, Craven County Veterans Council