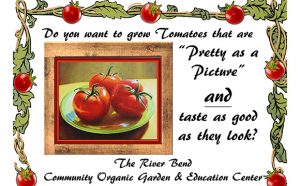 Garden Resolution: This is the year my tomatoes will survive and look beautiful. I mean it. This is the year. Or else.
The River Bend Community Organic Garden and Education Center presents their 25th free workshop, Growing tomatoes successfully in eastern North Carolina on Tuesday, May 15, 2018 at 6:30 pm at River Bend Town Hall. If you have tried without success to produce the perfect, damage free tomato, then come to this presentation. Attendees will learn about the best varieties of tomato for this area and will hear tips about how to achieve successful harvests. Presenter Hadley Cheris, Gardens & Greenhouse Manager at Tryon Palace, will help diagnose and deal with some of those pesky problems that harm tomatoes and baffle gardeners. The kitchen garden at Tryon Palace is known for its produce and Hadley will identify some of their favorite types of heirloom tomatoes.
Following the session, veggie-themed refreshments will be served. Our gardeners will show you healthy food tastes delicious.
Our workshops fill up. RSVP recommended. Contact Dee Smith at 634-3192.
Submitted by: Connie Casey