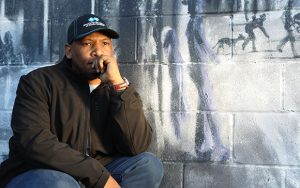 Craven Community College's (Craven CC) Minority Male (M2) Success Initiative will host The Black Light Project from 6-8 p.m. Thursday, April 12. Presented as an opportunity to highlight positive images of African-American men in the community, this program will take place in Orringer Auditorium on the New Bern campus.
"The purpose of The Black Light Project is to present men who are the rule, not the exception," said Monica Minus, Craven CC M2 Success Initiative program coordinator. "These are our fathers, brothers, husbands, sons, friends and our neighbors. They are black and they light our world with kindness, fearlessness, perseverance, love, strength and humanity."
The Black Light Project will include a visual art exhibit of African-American men in Craven County, as well as a documentary and a panel discussion on the project.
The Coastal Photo Club has volunteered to take photos of men from the community and Craven CC student Olivia Register will photograph Craven CC staff, faculty and students. These portraits will then be printed and displayed in a photography exhibit during the program.
"We identified so many men that are positive images in our community that we can't possibly photograph them all," said Minus. "So we will do our best to display a few men, knowing that there are so many more African-American men in Craven County worthy of being recognized."
The Black Light Project was started in Greenville by Tonya Jefferson Lynch to confront narratives that are portrayed in the media of African-American men. It explores black males as supporters, investors and contributors to society, while also acknowledging the need to create positive, effective change against stereotypes of the black community.
"Mrs. Lynch was the keynote speaker for the 3rd annual African American Summit this past June," said Minus. "She spoke about the portrayals of African-American men in the media and how it is not a true representation of all African-American men. We decided to partner with The Black Light Project to photograph our local men in Craven County – a representation of community members, students, staff and faculty, and showcase positive images of those we interact with every day."
For more information about this event contact Minus at 252-633-1764.
Submitted by: Craig Ramey, Director of Communications, Craven Community College