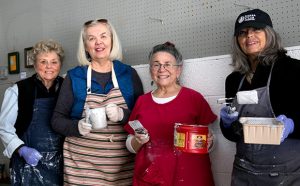 Community Artists Gallery & Studios leases Front Street property
Community Artists Gallery and Studios plans to host a grand "re-opening," with refreshments and live music by guitarist Dan Phillips, during New Bern's Art Walk on April 13.
The diverse, nonprofit consortium of artists, formerly known as CAW Center for the Arts, is leasing space at 504 South Front Street, across from the North Carolina History Center and the Farmers Market.
"We are thrilled to continue our contributions to the downtown arts scene in a new space," said Sandy Bruno, president of Community Artists Gallery and Studios. "We have many returning artists, along with new ones. Visitors will enjoy exploring all the fine art and crafts here. It's so roomy and we love the big windows."
Community Artists Gallery and Studios has been without a home since September, when interior flooding and ongoing repairs ended their tenure at a Broad Street address. Now, member artists are working to transform a vacant retail space into working studios for fifteen artists, with additional gallery space for others. The New Bern Civitan Club has assisted the group with constructing studio wall panels.
In addition to creating and exhibiting all kinds of art, Community Artists Gallery and Studios is engaged in many community arts and culture programs. It is a co-sponsor of the Neuse River Artists Studio Tour, May 5 and 6, and will be open during that event. Recently, several Community Artists members volunteered their talent for the Little Free Library Project. They decoratively painted the structures that will hold books for an honor-system exchange.
"We're looking forward to reviving many such community arts initiatives and partnerships now that we're resettled," said Bruno.
Currently, the artists that will maintain working studios on Front Street include: painters Sandy Bruno, Nada Behr, Susan Cheatham, Marvin Maune, Elaine Meyer, Mary Phelps, Karen Rawson, Belinda Scheber, Amber Williams, Ginger Wernersbach, and Eileen Wroe. In addition, photographer Rebecca Preece; mixed-media artist Brenda Gear; and weavers/fabric artists Julia McDonald & Nancy Dernier.
"We all enjoy sharing the creative process with the public," said Bruno. "We welcome anyone who stops by to see our work in progress."
Additional artists will exhibit in the Community Artists Gallery: Joya Barnett and Jeanne Julian, photography; Jimmy Huggins and Wendy Dawn Johnson, jewelry; Simone Houle, stained glass and basketry artist; Gigi Koehler, quilling (paper filigree); Peter J. Meyer, rustic wood crafts; and Kathleen Redman, pottery.
All artists offer their work for purchase at affordable prices. The group operates as a cooperative, so that each artist pays to rent space, and shares docent duties on a rotating basis.
In its former location, Community Artists welcomed over 1,000 visitors annually. The organization began in 2012 and was incorporated as a 501(c)(3) in 2014. Its mission is to provide space for artists, to cultivate mentoring opportunities, and to encourage and promote interactive, educational, and creative opportunities for artists, audiences, and the community. Bruno said that Community Artists is open to inquiries from artists who may wish to apply for membership.
Community Artists Gallery and Studios is supported by the North Carolina Arts Council, a division of the Department of Natural and Cultural Resources, through a Grassroots Arts grant from the Craven Arts Council.
Following the grand opening on April 13, hours for the gallery and studios will be Tuesday from 10 a.m. to 4 p.m. and Thursday through Saturday, 10:00 a.m. to 4 p.m.
Community Artists Gallery and Studios is on Facebook, and its website is CommunityArtistsGallery.org.
Submitted by: Jeanne Jillian, Community Artists Gallery