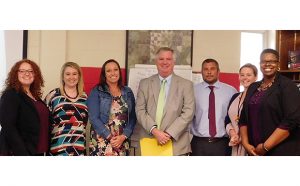 Edward Jones Financial Advisor Kevin Page, partnered with Partners In Education to award a $100 gift card to Kara Kinney, teacher at H.J. MacDonald Middle School.
Mr. Page explained that Ms. Kinney is being recognized because she has stepped up to facilitate instruction for additional math classes in 6th grade to ensure that all students are able to stay on track. Ms. Kinney works to show her support of the overall school program by coaching girls' soccer, volleyball and softball in addition to serving as the School Improvement Team Manager.
The Edward Jones Teacher Recognition Award demonstrates the company's commitment to positively changing the lives of students and families in our community.
The $100 gift card will be used to purchase materials for Ms. Kinney's classroom.
If you would like to learn how your organization can make a difference to a Craven County Schools teacher in the classroom, please contact Darlene Brown, Partners In Education, at 514-6321.
Submitted by: Darlene Brown, Executive Director, Craven County Partners In Education